Breast Cancer Awareness 2018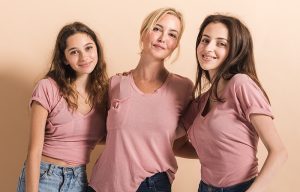 Meet the Walker family; For the past four years, Amy Walker and her daughters Isabella and Sofia have been the recipients of financial and emotional support from non-profit Breast Cancer Angels.
In 2014, after fearfully ignoring signs that something wasn't right, Amy got a screening and was diagnosed with Stage IV breast cancer. Amy faces the daily emotional and physical challenges of recovery, including juggling tests, scans, doctors' appointments and treatment with self-care, while also being a working, single mother to her teenage daughters. What follows is a brief interview with the Walkers about their lives, including their shared experience with Breast Cancer Angels and the family bond that's only grown stronger.
Q&A with Amy Walker
1. Please tell our readers a little bit about yourself.
I grew up in Lincoln Park, Chicago. I loved living there, (aside from the brutal winters); So much culture. I really love swimming in the ocean. The ocean triggers my "re-set" mode, in the best way possible. I have two magical daughters that I'm so proud of, we have a lot of fun together. I'm creatively inclined. Our whole family is, actually.
2. What inspires you? Makes you smile daily? What makes you feel empowered?
I'm inspired by people who genuinely care and take the time and actions to understand and better a less than ideal situation, with nothing to gain other than knowing they helped another. My daily smiles come from my two girls and our animals. We recognize the same irony in the smallest nuances and weirdest of situations and have the best laughing fits together. I feel empowered knowing I've inspired others in some positive way.
3. When were you first diagnosed with breast cancer how did you cope with the news?
In 2014, I was diagnosed with Stage IV breast cancer. I was devastated, horrified and inconsolably saddened at the idea of betraying my girls by not being here for them, not being able to see them grow up and have their mama with them for all the phases of life. I became determined. I listened. I did my own research. I chose wisely. I've made enormous strides for myself personally, in recognizing things that were unhealthy for me both spiritually and physically.
Continue to read this full interview by CIARA-JEAN MURPHY – click here.