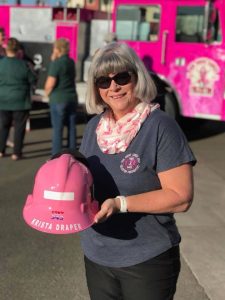 Debra Stroman
Executive Director
Debbie's strong service to the community serves her well as Executive Director of Operations. She was awarded the Boy Scouts of America; Silver Beaver award, earned through hard work, self-sacrifice, dedication and many years of service, while impacting the lives of many youths. She loves to cook at her church for the "Young at Heart" group, and serves when she is not busy with a Breast Cancer Angel event.
Debbie has over 25 years in accounting and bookkeeping that serves as a solid foundation while she oversees the day-to-day operations of the organization. She works with the Board to assure the organization's mission statement, programs and services are consistently presented in a strong positive image while developing partnerships with corporations and donors, producing events to raise funds in order to assist families fighting breast cancer in Southern California. In her spare time, she is an oil paint artist and loves to play with her two grandsons. We are so thankful to have Debbie on our side. She is everywhere, doing everything for everyone!
The mission of Breast Cancer Angels is to provide financial and emotional assistance for women and their families as they are going through breast cancer treatment. (We have also assisted men.)
We assist in Orange County, Long Beach/South Bay, and San Diego. We also do one-time emergency assistance in the Inland Empire and Los Angeles.
Breast Cancer Angels is an independent, not for profit, 501 (c ) (3) organization.